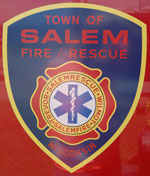 Salem Fire Association will be holding a fundraiser on Saturday, Dec. 1 and Sunday, Dec. 2 at the Salem Fire/Rescue Station 2, 8339 Antioch Road, Salem.
Pictures with Santa on a Fire Truck will be held from 11 a.m. to 3 p.m. both days. 4×6 photos will be printed while you wait. The cost of the photos is one unwrapped toy that will be donated to the Toys for Tots Drive. Also, any additional funds collected will also go to the Toys for Tots Drive.
Parking will be in the back parking lot.