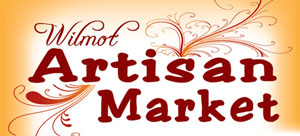 The 2012 Crossing Borders Artist Market & Studio Tours with unique holiday items made by local artists will take continue  Dec. 1 and 2.
Included will be northeast Illinois and Southeast Wisconsin galleries and studios:
Wilmot Artisan Market, 30723 113th St., Wilmot.
Fox River Glass, 11218, Fox River Road, Wilmot.
Bristol Pottery, 11227 136th Ave., Bristol.
Wabi Sabi Farm & Studio, 10701 395th Ave., Genoa City.
Antioch Arts Foundation, 938 Main St., Antoich, Ill.
Northwind Perennial Farm, 7047 Hospital Road, Burlington.
Carriage House Gallery, 2110 Main St., Spring Grove, Ill.
Julie's Coffee, 216 N. Milwaukee Ave., Lake Villa, Ill.
Stone Forest Pottery, 8824 Quail Run , Burlington.
McLean Studio, 3807 Spring Grove Road, Johnsburg, Ill.
Click here for more information or stop in at the Wilmot Artisan Market for a map, 30723 113th St. Wilmot.
Note: Wilmot Artisan Market is a westofthei.com sponsor.