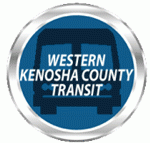 Western Kenosha County Transit officials are proposing eliminating two of its fixed bus routes and increasing the fare for door-to-door service for 2013.
The fixed route that will remain will travel between Kenosha and Twin Lakes, with stops in between  To be cut are the routes that traveled between Paddock Lake and Antioch and Twin Lakes and Lake Geneva.
The fare for fixed routes rides will remain at $2 but on-demand door-to-door service will increase from $3 to $5 for the general public and from $2 to $3 for the elderly and those with disabilities.
The changes are set to be explained and comment received at a public hearing Thursday, Nov. 15 at 3 p.m. at the Community Library, 24615 89th St, Salem. Complimentary transportation to the public hearing on Thursday is available from the transit system. People can reserve a ride by calling Western Transit at 888-203-3498.
Documents supplied by Western Transit show decreases to federal funding in 2013 as the program transitions out of its pilot period. Federal funding for 2013 is projected at $264,000. Federal funding for 2012 was $410,000.