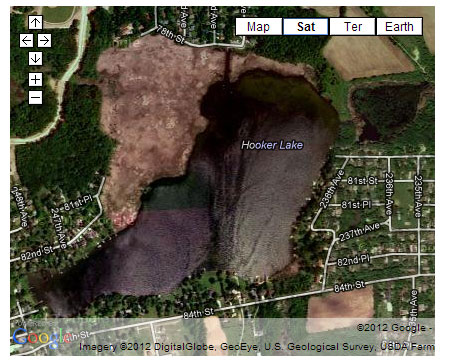 A proposal that would have decreased the amount of slow no-wake hours on Hooker Lake by 90 minutes a week was tabled by the Salem Town Board Monday night for at least another year.
Supervisor Dennis Faber motioned to put off a decision on the new hours until after the completion of a town-wide survey of property owners about their views on lake use. That survey is expected as part of a study of lakes use it the town to be completed by Salem and the Southeastern Wisconsin Regional Planning Commission. Faber said the results could be available next fall.
Faber said he hopes the survey could bring a unified approach to controversial issues such as lake no-wake hours.
Faber's motion passed on a 3 to 2 vote with Chairman Diann Tesar and Supervisor Ted Kmiec voting against. Both Tesar and Kmiec are Hooker Lake residents.
The proposal would have set new no-wake hours on Tuesday, Thursday and Saturday as from sunset to 10 a.m. The current slow no wake hours on those days are from a half-hour before sunset to 10 a.m. Otherwise, slow no wake hours on the lakes are 7 p.m. to 10 a.m.
The new hours passed a meeting of the The Hooker Lake Management District, with less than 10 total votes.
About 30 people showed up at the board meeting Monday, with 10 individuals sharing their opinion Speakers were split between those favoring expanded wake allowed hoursand those who opposed it.
Tim Vanderhoef, an opponent of decreasing no wake hours, presented a petition with 93 signatures supporting that view.
"This really needs to be ended," Vanderhoef said. "That lake is too small."
Others supported the decreased no wake hours — often framed as increased water skiing hours — as being incremental. Some also pointed out that The Hooker Lake Management District considered the matter and approved the decreased no wake hours, albeit by a small vote. But some pointed out that the proposal was well-publicized to lake district members before the meeting and still people did not show up to vote on it.
Related posts
Hooker Lake no-wake hours change stalls before Salem Town Board