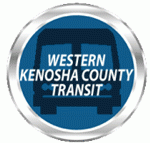 A public hearing on transportation services offered by Kenosha County will be held Thursday, Nov. 15 at 3 p.m. at the Community Library, 24615 89th St, Salem.
The purpose of the hearing is to present funding levels and service changes for transportation services provided by the county in 2013. Service and fare changes for Western Kenosha County Transit will be presented and public comments will be solicited.
Comments may be submitted prior to the hearing by contacting Michelle Dolnik at 262-605-6615 or michelle.dolnik@kenoshacounty.org by Nov. 15. A summary of the grant applications and changes is available by contacting Dolnik or at the Aging & Disability Resource Center, 8600 Sheridan Rd, Kenosha.