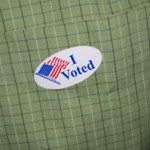 It's Election Day today with federal, state and county partisan offices on the ballot.
Of special note locally are:
The 61st Assembly District race, which pits current state Reps. Samantha Kerkman (R-Randall) and John Steinbrink (D-Pleasant Prairie) against each other in a newly drawn district. Most of Western Kenosha County (except for Wheatland) is in the 61st.
The 32nd Assembly District where incumbent state Rep. Tyler August (R-Lake Geneva) is being challenged by Kim M. Peterson (D-Spring Prairie). Wheatland is in the 32nd District.
County Register of Deeds will see Democrat JoEllyn Storz of Kenosha facing Republican Deborah Vos of Wheatland. The other partisan county offices are uncontested.
Note: westofthei.com will be providing results of the races above as soon as they are available tonight. Check back! — DH