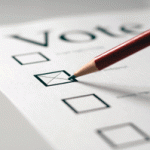 Voting in Salem for Tuesday's general election will return to both polling places in the town.
Wards 1-5 and 10 will vote at Salem Town Hall, 9814 Antioch Road. Voting for Wards 6 – 9 will take place at the Wilmot Fire Station, 30400 Wilmot Road. If you have questions about your voting location, contact Town Clerk, Cindi Ernest at (262) 843-2313.
Polls are open from 7 a.m. to 8 p.m.