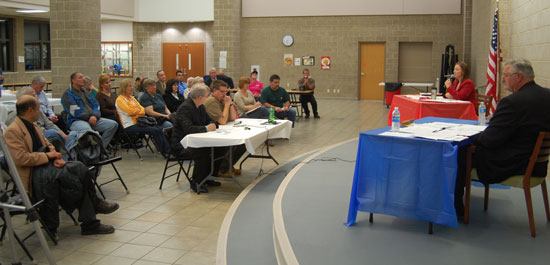 The candidates for the 61st State Assembly seat — state Reps. Samantha Kerkman and John Steinbrink — answered questions from the public at a fourm Tuesday at Trevor-Wilmot School.
The forum was sponsored by the Trevor-Wilmot School District and the Westosha High School District.
Both Republican Kerkman and Democrat Steinbrink are currently state representatives, but due to redistricting they are now both running for the 61st District seat.
The forum was to have an education slant, but there were some questions about more general topics as well.
Here are the candidates' opening statements:
Here the candidates address what they feel are their opponent's strengths and weaknesses:
Here the candidates address their views on the state-mandated start date for public schools:
Here the candidates comment on their views regarding Act 10:
Here the candidates talk about special education funding:
Here the candidates comment on their view of the state's role in upholding Common Core education standards: