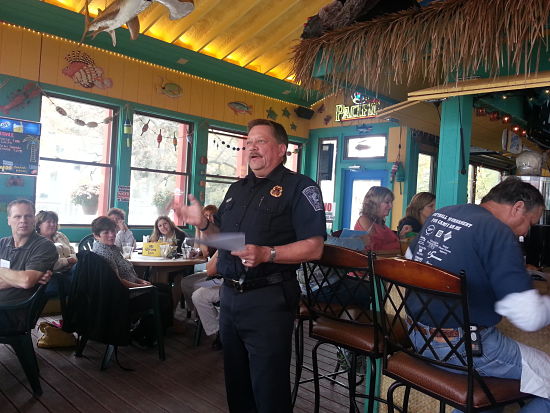 It's too early to tell what effect — if any — Wisconsin's relatively new concealed carry law will have on preventing crime, Twin Lakes Police Chief Dale Racer said at a Twin Lakes Area Chamber and Business Association meeting Wednesday.
In fact the only crime stat that has seemed to change significantly in the time since concealed carry was passed in 2011 has been an increase in entry to vehicles, Racer said.
"I don't know if people are breaking into vehicles to look for guns," Racer said. More people may be leaving guns in cars because businesses can opt out of allowing concealed carry by posting a sign.
Racer was the guest speaker at the monthly chamber meeting at The Sand Bar and Island Grill.
In Twin Lakes concealed carry has not been a problem.
"Ninety nine percent of people here in Twin Lakes have been fine," Racer said.
But Racer said he does have some concerns about the law and how it is structured.
When the law was passed, Racer said he was concerned that guns might be more handy during raod rage incidents, though he is not aware of that happening yet.
Racer said he also disagrees with the concealed carry permit requiring only four hours of classroom work. He said he feels some time shooting the gun on a range would be a good condition for obtaining a permit to carry a concealed gun. That would "make sure you shoot the gun and know how to use it."
The lack of a range time requirement is why the Twin Lakes PD does not conduct concealed carry classes like some other police departments, including the Silver Lake Police Department, do. Racer is a certified firearms instructor.
"To me its just wrong, "Racer said of the lack of a range requirement.