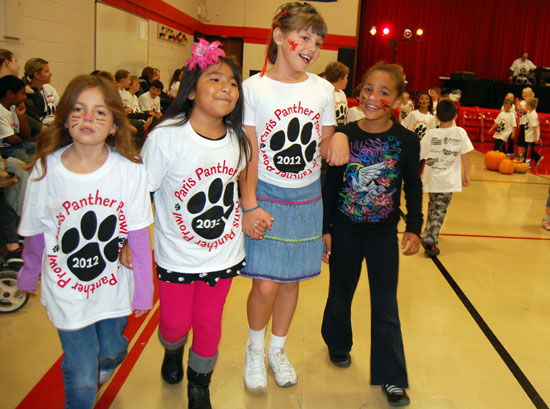 For its six-year history, the Panther Prowl at Paris School has always had good weather even though it's held in October. The ability to conjure up clear skies and warm enough temps has been downright uncanny the last few years.
Until this year.
Persistent rain forced the event, a fundraiser for the school's PSO held Saturday, indoors this year for the first time. Most of the prowl activities moved into the gym, cafeteria and other spaces inside the school. The one notable exception was the ever popular throw a sponge booth which continued to operate just outside the back door with district administrator/principal Roger Gahart acting as the affable target
The prowl featured Paris School students walking laps in exchange for pledges. Other attractions included a silent auction featuring unique and creative items handmade by Paris School students, 50/50 raffles, bake sale, sponge toss, free children's face painting and games, and lunch and snack foods for sale. Proceeds will support the Paris School technology initiative to bring a mobile computer lab to the school.
Here is a video of the grand entrance of the 4k through second grade students to their walking time:
Here are some more photos from the event: