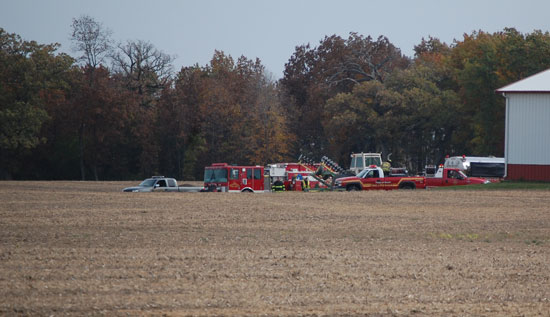 At about 1:12 p.m., units from Salem Fire/Rescue and Kansasville Fire Department are responding to a report of a grass fire in the 500 block of 224th Avenue in Brighton.
Dispatch says fire is about 100 feet by 100 feet and not near any structure about 100 feet from the road near a wooded area.
UPDATE 1:29 p.m. — Kansasville FD has pulled a box alarm. Salem Fire/Rescue now responding with an engine, a tender, a brush truck and a chief and another brush truck from the Wilmot station.
UPDATE 1:42 p.m. Paris Fire Department responding with an engine.
UPDATE 1:45 p.m. — Additional grass rigs being dispatched from Bristol, Wheatland and Paris fire departments. Deputy checking surrounding roads for smoke problems.
UPDATE 1:47 p.m. — Silver Lake FD being asked to respond with an ATV and a tanker. Randall FD to respond with ATV.
UPDATE 2:35 p.m. — I just returned from the scene. Firefighters at work putting out hot spots, but no large flames or smoke seen from the road. In addition to the equipment listed above, I saw a grass rig from the Rochester Fire Department and a tender from the Town of Burlington Fire Department responding.
UPDATE 3:03 p.m. — Units still on scene actively putting water down\ with grass rigs.
UPDATE 3:56 p.m. — Kansasville command informs Kenosha Joint Services dispatch that fire is out.