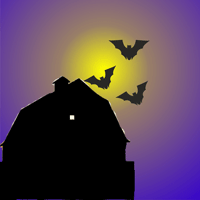 The Kenosha County Sheriff's Department and DARE Officer Deputy Raymond Rowe invite you to a special DARE NIGHT event at Farmer Brown's on Oct. 11, from 6-to 9 pm.
The event will cost only $10.00 (pay at the door) per person and will include an unforgettable hayride through the backwoods, admission to the haunted barn, hot dog, chips and soda (served from 6:30 pm to  7:30 pm). Plus, there will be a DJ playing your favorite songs. This is a fun event for the whole family, so don't miss it.
This event is open to all DARE students and DARE graduates up to 8th grade. Parents, siblings and friends of the DARE students are also welcome to attend.
Farmer Brown's is located on Highway 50 just west of Highway 45 in Bristol. You can get more information by calling Farmer Brown's at 857-6828.
If parents choose not to stay with their children, they must return no later than 9 p.m. to pick them up. Everyone is asked to adhere to this request.
Also, any bad behavior will result in parents being notified and student(s) being sent home.