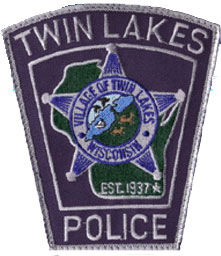 A man arrested in connection with a burglary of a Twin Lakes tavern last week now faces two felony and one misdemeanor charges.
Edward C. Lefler, 46, of Twin Lakes, was charged in Kenosha County Circuit Court today. The charges are:
Burglary-Building or Dwelling.
Criminal Damage to ATM/Other Machines.
Criminal Damage to Property (the misdemeanor).
Police Officers Katie Hall and Joseph Patla were on foot patrol in the downtown area checking businesses at about 2:11 a.m. on Oct. 4 when they heard the sound of breaking glass. Upon further investigation, the officers observed the front window of a tavern in the 300 block of East Main Street smashed out. Officers observed a white male subject behind the bar area attempting to open the cash register.