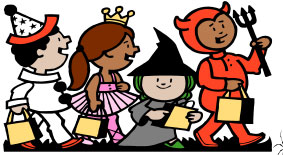 Nothing is as routine in local municipal government as the annual setting of designated trick-or-treat hours.
Except in Twin Lakes last night.
Typically all of the Western Kenosha County municipalities that set a trick-or-treat time set it for 4 to 7 p.m. on Halloween with the exception of Wheatland, which usually designates a Sunday afternoon. Salem, Silver Lake and Randall have already set those hours for this year.
On Monday, Twin Lakes Trustee Sharon Bower made a pitch for that village to change recent practice and go the weekend-day light hours route.
Speaking at a Committee of the Whole meeting, Bower said she has received requests from constituents for the change.
"In the small neighborhoods, there's a lot of kids out and if it's light out I think they enjoy it more," Bower said. She added that evening hours can be problematic if some kids do not get home from school until 4 p.m. and then their mother is not home to take them out and their father is still working.
Trustee Aaron Karow said he has heard talk from constituents about Sundays too, but among board members who expressed an opinion Bower's' proposal did not seem to have a lot of support.
" I say keep it on the traditional day," said Trustee Tom Connolly. Village President Howard Skinner pointed out that the official hours have been on Halloween evening for at least the last seven years.
Trustee Kevin Fitzgerald took yet another position. "Let them do it both days," he said. "What do we care?"
A vote on trick-or-treat hours will be taken at the next Village Board meeting on Oct. 15.