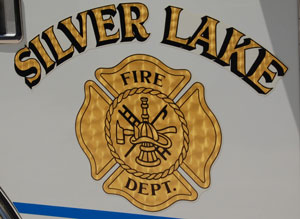 The Silver Lake Fire Department will begin seeking fees for use of its service in case case of crashes, for intentionally set fires and false alarms and for repeat false alarms after the passage of an ordinance recently approved by the Silver Lake Village Board.
The ordinance sets out a schedule of fees for the services. Trustee Sue Gerber was the only vote against passing the ordinance.
The first section of the ordinance relates to fees for emergency response on roads, public waterways and railroads. The owner of each vehicle receiving services from the department will be charged $500 for response of any fire apparatus. Personnel charges will be billed at the actual rates rendered and a 5 percent administration charge added. Firefighters will collect the billing info and the clerk/treasure will administrate the billing and payment.
Fees for emergency service related to intentionally set fires and false alarms are:
Engine: $400.00 per hour per engine.
Ambulance: $300.00 per hour per ambulance.
Ladder Truck: $400.00 per hour per ladder truck.
Tanker Fire Truck: $300.00 per hour per tanker fire truck.
Grass Fire Truck: $250.00 per hour per grass fire truck.
Command Car: $150.00 per hour per command car.
Equipment Squad: $300.00 per hour per equipment squad.
Regarding repeat false alarms, the ordinance states that after the third false alarm, a letter will be sent to the homeowner notifying them that they will be billed for any subsequent false alarm calls.  The billing will be as follows:
1. 4th incident will incur a $175.00 fee.
2. Each subsequent incident will incur a $500.00 fee.
Trustee Sotiria Wilbur said at the meeting at which the ordinance passed that the village's law was passed on one in use in Union Grove.