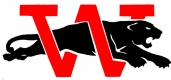 Here's the Wilmot Union High School freshman and JVfootball wrap-up for week 4.
JV won 8-0 versus Union Grove on Thursday. On the first drive of the game Ethan Scott scored on a 2 yard run on 4th down. 3 turnovers in the first half kept the Panthers from extending the lead. The second half was a battle of punters and field position But Wilmot's defense extended their scoreless streak to 11 quarters and never allowed Union Grove to seriously threaten the end zone. JV improves to 3-1, 3-0 in conference.
Wilmot freshman lost to Union Grove 36-14.