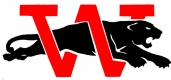 Wilmot Union High School's variety football offense exploded on Friday night at Elkhorn, defeating the Elk's 41-6.  Wilmot opened the scoring on their first drive, capped off by a Bennett Kothe 2 yd TD run.  Wilmot added 22 points in the 2nd quarter, beginning with QB Noah Strasser hitting WR Eric Nevoso for a 27 yard TD pass to push the score to 13-0. Kothe added another 6 yard run for a TD and Strasser hit Christensen for the 2 point conversion, making it 21-0.  Late in the half Strasser lofted a perfect 40 yd TD pass to Christensen to make the halftime score 28-0.
Wilmot's offense sputtered during the 3rd quarter.  Elkhorn got on the board on very nice TD catch to close the gap to 28-6.  But early in the 4th quarter Strasser struck again, hitting Kothe with a short pass that Kothe turned into a 20 yd TD, making it 34-6.  Wilmot finished the scoring when backup QB Michael Lindemann scampered 68 yards for a TD.
Strasser completed 10 passes for 205 yards and 3 TDs, Christensen had 5 catches for 135 yds and a TD, and Kothe rushed 22 times for 84 yards with 2 TD runs and added 44 yards and a TD receiving.
Wilmot's defense limited Elkhorn to 148 total yards and made 3 interceptions.
The Panthers improved to 1-2 overall, 1-1 in conference.  They will host the Union Grove Broncos at Frank Bucci Field in Wilmot on Friday, Sept 14 at 7pm
Stats from Wissports.net.
JV Football
Smash-mouth football would describe Wilmot's 6-0 victory over Elkhorn.  Wilmot took the opening drive and slowly moved the ball downfield and into the end zone for a 6-0 lead. Colin Robinson finished off the drive with a 2 yd TD run. Wilmot's defense stuffed the Elk's deep in Wilmot territory very late in the first half.  Elkhorn controlled the ball the entire 3rd quarter as they drove methodically downfield, almost exclusively on the ground. But Wilmot's defense stuff the Elk's at the Panther 2 early in the 4th quarter to preserve the lead.  Wilmot's defense has not been scored on in 7 straight quarters!
Wilmot was led by QB Bonogofsky and RBs Marcus Lindstrandt and Mikey Daniels.  Both offensive and defensive lines deserve credit for their efforts.
Wilmot's JV improves to 2-1 overall, 2-0 in conference.  Wilmot will take on the Union Grove Broncos at UG on Thursday, Sept 13 at 6:15.
Freshman football
In a wild one that kept the scoreboard operator busy, the Wilmot Freshman evened their record at 1-1 defeating Elkhorn 34-26.  Wilmot trSailed 20-13 at halftime but quickly tied the score in the 3rd quarter.  On Elkhorn's next possession the Elk's reclaimed the lead when 2 Wilmot defenders collided attempting to intercept the pass, and it tipped to an Elk receiver who scored. The extra point missed, leaving the score 26-20
Wilmot answered and took the lead with the extra point, 27-26.  Wilmot extended the lead a short time later when WR Jaden Jesse caught a pass from QB Brandon Allen and made a nice move to get in to the end zone.  Wilmot's defense stopped the Elks behind a relentless effort by defensive lineman Nick Edmonds, and the Panthers had their first victory of the year.
Wilmot's offense was led by Allen, Jesse, and RB Mason Nindl.  The defense was led by Edmonds, linebacker Bobby Brenner and several others.
Wilmot (1-1) travels to Union Grove to take on the Broncos Thursday, Sept 13 at 4:30
/Submitted by Jim O'Connell