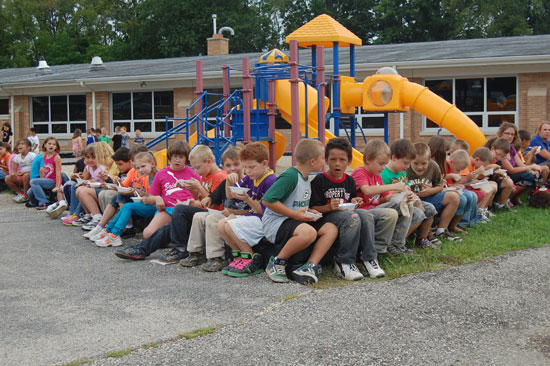 Lakewood School in Twin Lakes is implementing  a Positive Behavioral Interventions and Support — better known as PBIS — this year.
PBIS programs have become common around Wisconsin and through Western Kenosha County, where several other districts have implemented them over the last couple of school years.
The PBIS process is:
Identifying an area of concern.
Developing a plan that includes teaching and reinforcing new skills.
Tracking its effectiveness.
Lakewood developed its focus on three words: Safe, Responsible, and Respectful, explained Sheryl Camacho, the school's RTI coordinator. Here she explains how the program has been implemented and will operate at the school:
Part of PBIS is rewarding students for basics such as using a correct voice level, following bus rules, and using appropriate language. Students are awarded "Raider Rewards" to enter into drawings for prizes on a weekly basis and a large prize drawing is held monthly during the lunch period. Students have an array of rewards to choose from and may choose a toy or the chance to sit at a special table at lunch with three friends. We will also have school-wide celebrations throughout the year such as our kick-off celebration with the ice-cream social (see accompanying photos). Every adult in the building can give Raider Rewards when they see a student meeting an expectation. For example, a custodian may give a Raider Reward when he sees a child pick-up paper in the hallway or a teacher may give one to a child from a different class for exhibiting good table manners. Why reward students for following through on such basic expectations? Simply because some of the expectations aren't basic to students. For students, a little bit of talk amongst themselves in the hall doesn't seem like a big deal. Saying a curse word might be allowed at home, or a child may not understand personal space. Teaching and reinforcement of school-expectations reaches about 80 percent of students. For others, a more intensive approach is needed. We will be focusing on reaching that 80% this year in our implementation of PBIS at Lakewood. We will continue to implement behavioral interventions for those who need more personalized interventions. Our focus this first year will be on school-wide expectations in common areas of the building such as the cafeteria, hallways, and playground. On the first day of school this year all teachers, staff, and students spent the entire day learning the expectations for each common area of the building. They also began to learn a new set of vocabulary and common language that will be used throughout the school. We have already noticed a great increase in students meeting these new expectations."