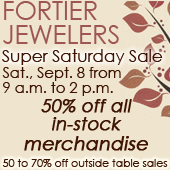 Note: Fortier Jewelers is a westofthei.com sponsor. — DH

Fortier Jewelers, 1129 Main Street (Highway 45), Union Grove will be holding a Super Saturday Sale sale on Saturday, Sept. 8.
On Sept. 8 only, Fortier will be offering 50 percent off all in-stock merchandise inside and outside from 9 a.m. to 2 p.m.
Bring in a print-out of this post and receive an additional 5 percent off your in store purchase only. (Look for the Print this Post link at the upper left. If you don't see it, click on the headline first and then take a peek. This will give you a printer friendly copy.). Outside sales excluded from this addtional offer.
Need extra cash? Bring in your old gold!
Deals this good don't last forever! So stop in an see what Fortier has to offer.
UPDATE – The sale dates have been extended to Sept. 6, 7 and 8!