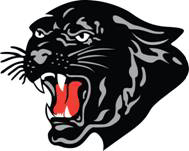 The Wilmot Union High School varsity football team dropped its conference opener Friday night to Waterford 28-13. The game was tightly contested deep into the 4th quarter, but Waterford's relentless running attack eventually put the game away. The Wolverines rushed for 150 yards and averaged 4.4 yards per carry. Wilmot was lead by QB Noah Strasser who threw for 147 yards and 2 TDs.
Waterford opened the scoring in the 1st quarter with a long drive resulting in a rushing TD. Wilmot answered with 7 min to go in the 2nd quarter when Strasser hit RB Bennett Kothe with a screen pass that Kothe turned into a 72 yard TD with a spectacular dash thru the Wolverine defense. The conversion failed and Wilmot trailed 8-6. An unfortunate fumble by Wilmot near their 25 yrd line with 30 seconds left in the half gave Waterford another chance and they cashed in with a TD pass pushing the score to 15-6 at halftime.
Wilmot forced a fumble early in the 3rd quarter, recovered by Heath Gascoigne. The Panthers were able to capitalize when Strasser completed a short TD pass to WR Matt Christensen to cut the score to 15-13. Wilmot stopped Waterford again but a Wilmot penalty on Waterford's punt kept the Wolverines drive alive, and they pushed in for another score to make it 22-13. Wilmot appeared to have scored again on another terrific Kothe run, but it was called back for multiple penalties and the drive stalled. With 5 minutes to go Waterford capped the scoring after another long drive.
Wilmot falls to 0-2 overall, 0-1 in conference. Next week they travel to Elkhorn to take on the Elks (1-1, 1-0).
(all stats from WisSports.net)
 JV Football
The Wilmot JV team defeated conference rival Waterford at Waterford Thursday night, 8-6.
After falling behind 6-0, Wilmot's defense turned the game around in the 2nd quarter with a safety, cutting the score to 6-2. The offense then put together a very nice long drive. On 4th and long, QB Matt Bonogofsky lofted a perfect toss in the corner of the end zone to WR Ethan Scott who went up and made a tough catch, giving the Panthers their first lead 8-6.
Behind the hard running of Marcus Lindstrand the offense was able to control the ball and the clock most of the second half. The defense dominated Waterford the entire second half, led by Kyle Loveless-Hall who had 2 big interceptions and several key tackles.
Wilmot improved to 1-1 overall, 1-0 in conference. They host Elkhorn next Thursday, Sept 6 at 6:15 at Bucci Field.
Freshman
The Wilmot Freshman dropped their opener at Waterford Thursday night, 19-0.
The Frosh will host Elkhorn next Thursday, Sept 6 at 4:30 at Bucci Field.
/Submitted by Jim O'Connell