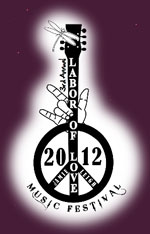 The 3rd Annual Labor of Love Day Music Festival in memory of Jamie Leigh Wilson will take place Sunday, Sept. 2, from 11 a.m. to 6 p.m.,  at New Munster Park, 34315 Geneva Road, New Munster.
Tickets are $10 in advance – $15 at the door available at: Dave's Saloon, Ray's Change of Pace, J.Croz's, Main Street Tap, Triangle, 75th Street, Lily Lake Resort, Sand Bar & Island Grill, Local Folks, Pink House, B & D's, Sly Fox, Mad Dans.
This year's festival will include live music, a dove release, food, live auction, baggo tournament, dunk tank, bake walk, local vendors, and entry drawing cash prizes of $1,000, (2) $500, (2) $250 and (5) $100 winners.
Feel free to bring your own lawn chairs, however food and beverages are prohibited but will be available for purchase at the event. All ages are welcome.
Labor of Love supports non-profit organization Just Live, Inc., a community of family, friends and local business coming together to help fund, promote awareness, and implement education through the support and recognition of county/statewide mental health organizations.