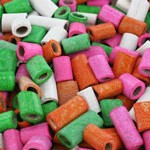 Katie Berezowitz, 5, of Burlington was this year's winner of the westofthei.com guessing contest at our booth at the Kenosha County Fair.
Katie guessed the number of Snap candy pieces in the jar right to the exact number — 461. For her accuracy, she will receive a lifetime membership to the Kenosha County Fair courtesy of westofthei.com and its sister site KenoWi.com.
Thanks to everyone that participated and stopped by our booth to chat.