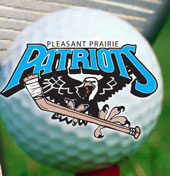 The Patriots Hockey Association will be holding its Inaugural Golf Outing and Silent Auction event , on Sept. 17 at the Kenosha Country Club, Kenosha.
Young people from throughout Kenosha County participate in  Patriots Hockey.
This will be the group's primary fundraising event of the year with a goal to raise money to provide scholarships for boys and girls who otherwise could not afford to play hockey. The mission of the Patriots Hockey Association is to provide a fun and affordable hockey experience for players of all ages and abilities through structured practice and suitable competition. The group seeks to promote physical fitness, create rewarding experiences and to build lasting relationships both on and off the ice.
For more details, visit http://recplexonline.com/sports/hockey/patriots-inaugural-golf-outing-2012