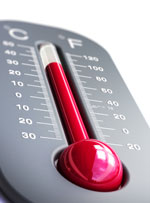 The National Weather Service expects to see a warming trend in the area that should get us back to the 90s for at least a couple of days.
The current forecast calls for a high of 91 Thursday and a high of 90 Friday.
But the warmer trend seems to be short lived as temps will start to dip starting Sunday with just a high of 78 forecast for Tuesday.