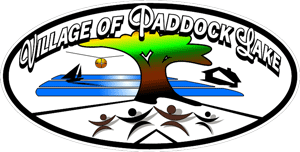 After meeting in closed session Wednesday night, the Paddock Lake Village Board approved a lease agreement with Edenhofer Law Office. According to Village President, Marlene Goodson, the agreement would permit the law firm to move in to the annex building, located at 7001 236th Avenue on September 1, but remodeling will push the date back for approximately one month.
"The lease agreement was contingent upon Carl Edenhofer's approval, and he was out of town, so that was the reason for going into close session on this," she explained. "We had to make some changes with the lease, regarding some building and grounds issues, as well as having a separate sewer and water bill, but other than that, everything went well."
Included in the agreement and voted on separately was a carpentry contract with JK Building, LLC, Paddock Lake for $4,122, new carpet and flooring with Hasting Carpet and Tile, Paddock Lake, for $4,550, a painting contract with A & D Painting, Burlington, for $3,950, and heating and air conditioning alterations by Reliable Heating & Air Conditioning for $2,250.
According to Goodson, the Village is anxious to begin remodeling efforts for Edenhofer Law Office, as well as for a physician who will be sharing the building.
"There is a lot to do," she said. "We would like to have them in by September 1, but there is no way all the carpet, ceiling tiles and walls will be erected and other things done. We had to plug in a number to we had something that could be negotiated, but I don't anticipate a problem. Both want to get in there as soon as possible."