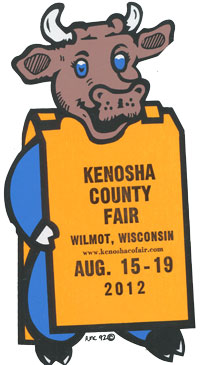 Here is Friday's schedule for the Kenosha County Fair:
Junior Western Horse Show, 8 a.m.
Jr. Fair Rabbits-Open Class After 8 a.m.
Jr. Fair Dairy-Open Class After 9 a.m.
Children's Parade 10:30 a.m.
Pedal Tractor Pull 11:30a.m.
Special Pedal Pull, 13-16 yr olds, 11 a.m.
Open Class flower arrangements 1 p.m.
4-H Fish Casting at Fish Pond 5 p.m.
Hay Bale Throwing Contest 6:30 p.m.
Reduced prices on most rides for everyone noon to 6 p.m.
Modified car racing, warm-ups at 6 p.m., racing at 7 p.m. (additional charge).
Rebel Grace, Miller Lite Creek Side Stage, 8 p.m. to midnight.