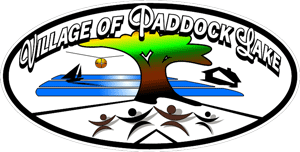 When it rains hard in November, Paddock Lake residents know they can expect a huge puddle to overflow at various low-lying areas, flooding curbs and streets.
Typical with the fall weather, the leaves fall and clog the drainage areas along the Village streets. The leaves are beautiful to look at, and useful in school for arts and crafts, but when they accumulate in storm sewers, there are issues.
While some residents bag their leaves, others rake them into the streets.
Come heavy rains, those loose leaves join twigs and other roadside trash in a rush toward the storm sewers.
Soon, the issue of wayward leaves will be taken care of, thanks to the Village Board approving the purchase of a $39,830 25 cubic yard self-contained leaf vac collection system. The model SCL800m25 is made by ODB Co. of Richmond, VA.
The Village hoped to receive delivery of the vehicle for the fall collection, but due to a delay, the unit may not arrive until spring 2013. The warranty will not take affect until the unit is in operation, however.
The leaf vac is expected to reduce labor costs, as one operator controls the entire leaf collection process from the cab of the truck, and collection is 25 percent faster than using a traditional trailer mounted leaf collector.
The unit should increase productivity, as there will be no worker fatigue or inclement weather to work in, as the driver remains in the cab of the vehicle while collecting the leaves.
One person can do the work of three, which will also save in personnel costs with the benefit of high productivity.