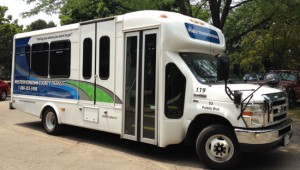 Love the Kenosha County Fair, but don't like the hassle of parking and walking a long way to the entrance?
You can ride the Western Kenosha County Transit to the fair thanks to special stops added to the service for the run of the fair.
One-way fares on WKCT are $2. A schedule is available here. The stops listed are in addition to the regularly scheduled stops.
On Wednesday, seniors age 62 and over can enjoy a great deal at the fair. Fair admission on Wednesday is just $6 for seniors.
Riders with wheelchairs or other mobility devices are encouraged to call ahead to schedule their trip to help ensure a wheelchair tie-down spot is available at your preferred time. Call: 888-203-3498.