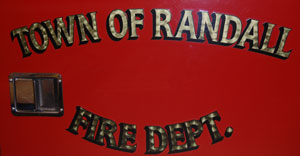 The Randall Town Board voted to accept recommendations on the future of the Randall Fire Fepartment's Explorer program from the fire department's officer board.
Those recomendations included keeping the program affiliated with Boy Scouts of America, creating oversight and developing policies. The officers also recommended coming back with a report to the Town Board in six months.
The review of the program grew out of a citizen initiative at the annual town meeting In April.
Though he did not initiate the action then, Supervisor Randy Kaskin, at the annual meeting, said he felt the Boy Scout affiliation restricts the Randall program. He voted against accepting the officers board recommendations tonight.
Supervisor Mike Halvorson said he contacted the parents of children involved in the program and found few complaints. He added that he felt problems with the program were more communications issues with the adults.
"Overall everyone's very happy with the quality and type of instruction," Halvorson said.
The board did change one aspect of the officers board recommendation. They asked for a status report in three months instead of six.