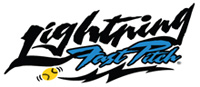 The Wisconsin Lightning Black 18U softball team continues to roll at the USA/ASA Class A Nationals in Johnson City, TN with two more victories on Wednesday. They are now 3-0 in the 95 team tournament.
Early Wednesday morning they completed a rain delayed game from Tuesday night with a 3-0 win over the Sparks from Orland Park, IL. Kristen Wood (Wimot HS) pitched a complete game shutout while striking out 10 Sparks batters, and OF Hayden Krueger (Central HS) blasted a long homerun over the centerfield fence. The Krueger homerun can be seen on this video link at the 33:45 mark.
The win over the Sparks gave the Lightning Black a bye in the first round of bracket play. Later in the day they began their bracket play with a 2nd round, 5-0 victory over the Inferno out of Newberry, Florida. The Lightning Black got to work early scoring a 1st inning run when 3rd baseman Staci Roscizewski (Racine Case HS) led off with a walk then stole 2nd base. Two batters later the red-hot Krueger smacked an RBI single to put the Lightning Black up 1-0. Once again, that was all the run support that the Northwestern University-bound Wood would need. She stymied the Florida lineup throwing a complete game, 3-hit shutout, while fanning 13 batters. The Lightning Black would then tack on three more runs in the 2nd inning with RBIs from Alicia Barbian (Waterford HS), Alex Kies (Union Grove HS), and Sarah Fonk (Central HS). Wood led off the 3rd inning with a walk, then UW La Crosse-bound catcher, Alecia Faber (Union Grove HS), belted a one-out double to score pinch runner Rachel Heffel (Racine Case HS) and make the score 5-0.
The Lightning Black will play their next game Thursday at 7pm CST vs the South Carolina Badkatz. Here is a link to the updated 95 team bracket.