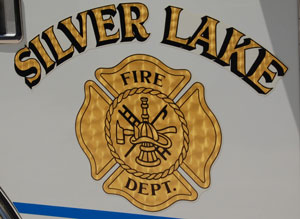 The Silver Lake Village Board on Wednesday accepted the resignation of Fire Chief Bill Brown and appointed Andrew McFarlane to fill out the remainder of the current term.
Trustee Cyndy Schwebke said she received a letter from Brown announcing his resignation. He did not include a reason, she said.
With no initial indication  from Brown about an appointment of a successor, Schwebke said she called a meeting of the Emergency Government Committee, which she chairs, to interview the assistant chiefs. Out of that process the committee recommended appointing McFarlane as interim chief.
Subsequently, Brown also submitted a written appointment of McFarlane at the interim chief post.
Brown's resignation was accepted by a 5 to 2 vote with Trustees Sue Gerber and David Snow voting against.
McFarlane's appointment was approved unanimously.
Village President Jeff Albrecht said he was concerned about a possible conflict of interest since McFarlane also is assistant chief of Silver Lake Rescue, which is a separate entity not controlled by the village government. The village has sought consideration of a merger of the fire department and rescue squad.
However, Albrecht's concerns about the conflict appeared to be relieved by a letter McFarlane submitted saying he would step down from the assistant chief position of the rescue squad while remaining a member.
McFarlane will only fill out the remainder of Brown's current term, which expires in December.