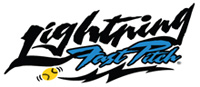 The Wisconsin Lightning 18U Black softball team won their first game 3-1 at the USA Class A National Championship Tournament in Johnson City, Tennessee on Monday.
The arm of Kristen Wood (Wilmot HS) and the bat of Heyden Kreuger (Central HS) paced the way to the victory in the 95-team tournament of 18-year-old fastpitch softball girls. All teams must qualify to participate in this National Championship Tournament.
The Northwestern University-bound Wood threw a 3-hitter and struck out 12 Boise batters, while Kreuger hit everything thrown to her, and finished 4-for-4 while pounding 2 doubles and 2 RBI. The entire game can be viewed here.
The Lightning Black jumped out to a 2-0 lead in the first inning, and looked like they would blow the game open later in that same inning, but stranded the bases loaded on a deep flyball caught by the Boise leftfielder. That was all the run support Wood would need as she mowed down the Boise lineup until a solo homerun in the bottom of the 6th inning made it 2-1. The Lightning added an insurance run in the top of the 7th inning to make it 3-1.
The banged up Lightning Black are without the services of 3 of their top players: Ballie Sheahan, Kelli Hutchison, and Emily McClelland.
Other standouts in the game were Kelsey Saucerman with 3 walks to go with 1 RBI, and Staci Roscizewski with 2 runs scored.
The Lightning Black will play their next game at 5 p.m. vs. the Sparks. The game will stream live here. It can also be viewed later, after the game, by clicking on "videos" under the screen.