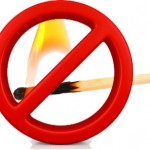 Local fire department representatives are expected to meet FrIday to consider the status of the open burning ban in effect in Western Kenosha County since mid June.
Randall town Chairman Bob Stoll mentioned the meeting in his comments at the regular Randall Town Board meeting Thursday night. Stoll also is a captain on the Randall Fire Department.
"The burn ban is close to being lifted," Stoll said. "It looks like everything is coming around and greening up a bit."
Historically dry and hot weather prompted local fire chiefs to declare the ban on open burning in effect until further notice.