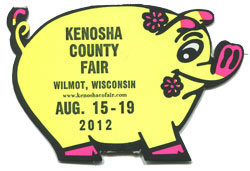 Fairgoers with talent can display their skills at the Kenosha County Fair.
The fair will host a talent show at the Free Acts Stage — one night only — on Thursday, Aug. 16, starting at 6 p.m. This is a change from previous years in which two shows were held.
The talent contests are open to amateurs ages 7 to adult. There are solo and group classes in each of the following categories:
Instrumental music.
Vocal music.
Dance.
Miscellaneous.
There also is a special class for out of state groups.
Here's the entry form and rules. All entries are due at the fair office (or postmarked by) Aug. 3.
The Kenosha County Fair runs this year from Aug. 15-19.