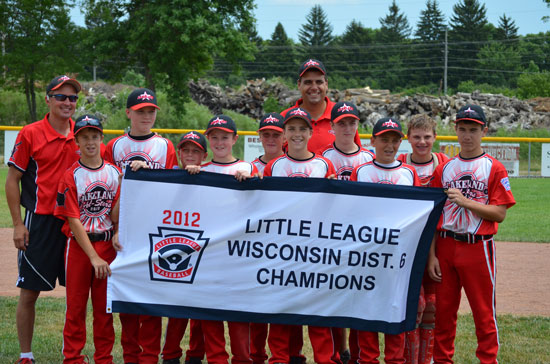 The Lakeland Little League Major Baseball Team has won the District  6 championship. The team will now advance to the state tournament in Eau Claire, starting July 21.
District tournament game scores were:
Game # 1: Lakeland LL- 13 Kenosha American- 1
Game # 2: Lakeland LL- 15 Felix Mantilla- 0
Game # 3: Lakeland LL- 11 Burlington-1
Game # 4: Lakeland LL- 7 Burlington- 2
Team members are: Jack Pollick, Tanner Peterson, Justin Paasch, Gunner Peterson, Kyle Gendron, Tanner Bykowsk, AJ Frisby, Michael Williams, Troy Hickey and Frank Koehkne. Manager is Forrest Koehnke and Coaches are John Gendron and Brian Frisby.