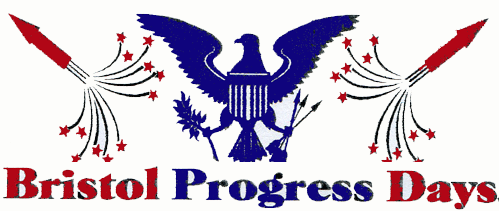 Bristol Progress Days, that community's annual festival, will take place this weekend July 13, 14 and 15 with some new activites and all of the traditional ones — with one notable exception.
Fireworks, a stable of Sunday's evening's program, will not take place this Sunday due to extreme dry conditions. However, they will be rescheduled to a later date that offers safer condtions, said Carol Nichols, treasurer of the Progress Days Committee.
The festivities include the Miss Bristol crowning and the Outstanding Citizens Awards, which are announced on Friday at the coronation banquet. The sports tournaments are always a big hit and the parade draws people from all over.
Here's some of the fun at Bristol Progress Days:
CORONATION BANQUET — This year's Miss Bristol and the Outstanding Citizen announcements are made at the annual banquet held at the Parkway Chateau on Friday evening. New this year is the  Junior Outstanding Citizen of Bristol.
PARADE — The parade know for its large number of varied entries and its abundance of candy treats takes place starting at 12:30 p.m. on Sunday. The parade route works its way through downtown Bristol and ends at Hansen Park, where the other Progress Days activities are held. Make sure to bring a container for all that candy!
AUCTION — An auction with a live auctioneer will take place Sunday at 2 p.m. Make sure to check it out and make your bids.
RAFFLES — Raffle tickets are available until afternoon of the parade on Sunday, July 15. You can contact Carol at 857-2447 orLWadin@wi.rr.com for more information.
LIVE MUSIC — Friday night will be Floog from 8 pm till midnight. Saturday night will be 4 Grand from 8 pm till midnight. There will be a DJ Sunday afternoon.
CARNIVAL — A selection of carnival rides will be on site throughout the three days.
SOFTBALL — A fast-pitch softball tournament will take place Friday and Saturday.
YOUTH BASEBALL – Saturday and Sunday mornings will feature youth baseball tournaments.
KIDS FUN — Saturday is a special one for kids at Progress Days with a kids game area and pedal pull at 11 a.m., and a wristband special for the carnival rides.
VOLLEYBALL — A volleyball tournament will take place at Hansen Park on Saturday.
BAGGO —  32 team double elimination baggo tournament. $30.00 per team bring your own partner at 2 pm in the beer tent. Western Kenosha County baggo league regulations and rules. Registration throughout the weekend first come first serve.
Need more information? Visit bristolprogressdays.com.