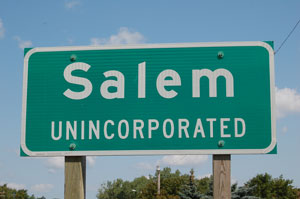 The Salem Town Board will begin to have a committee of the whole meeting as opposed to separate committee meetings.
That consensus was reached at a committee of the whole Monday that was held before the regular Town Board meeting.
Committees are typically used for discussion of matters before they are voted on at a regular board meeting.
The board has been discussing reinstating a regular committee meeting structure for a couple of months. Monday's meeting was called with the idea of firming up that procedure. Members had even been designated for five standing committees.
But early on Supervisor Dan Campion suggested the board meet together to discuss committee matters — a method typically called a committee of the whole.
"You'd have all of the board members present but we won't have to go through and rehash a subject two or three times," said Campion. "I just think we're going to get more accomplished, and accomplish it better."
Town Chairman Diann Tesar initially said she felt the smaller committees would be more efficient, but she relented to the committee of the whole structure.
The meeting will typically be held at 6 p.m. on the third Monday of the month. The first meeting, which will set priorities for future meetings, will take place at 6 p.m. July 30 due to board members schedule conflicts.