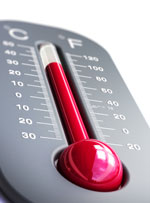 The National Weather Service forecast for the area calls for relief from the blistering temperatures we've had here.
Today will start a run of days with high temperatures in just the 80s. By Friday, high temps are expected to reach the low 90s.
Unfortunately, right now there is not even a slim chance of rain in the forecast through Saturday.