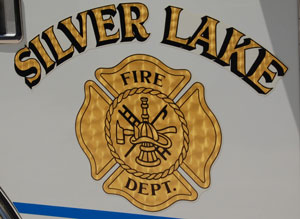 The Silver Lake Fire Department will be holding their annual Fireman's Festival on July 6 and 7.
On Friday July 6, food and drinks start at 5 p.m. The Baggo Tournament registration will start at 5 p.m. and 6 p.m. for first throw. The tournament is scheduled to end at  8:30 p.m.  Bella Cain will play starting at 9 p.m. until Midnight.
On Saturday July 7,  music food and drinks open at noon. Firefighter water fights (registration starts at 10am) will take place from noon to 2 p.m. and businessmen water fights (registration starts at 1 p.m) from 3 to 6 p.m. Live music from 4 Grand will take place from 8 p.m. to 12 a.m.
In addition to the Fire Department's events, the Silver Lake Citizens for Growth will present events during the Festival as well.
On Friday, July 6,  10 a.m. Sidewalk chalk art sponsored by Heart Strings Resale Shop. Jackie, the owner of Heart Strings will provide sidewalk chalk to anyone who wishes to decorate a sidewalk square on Lake Street. Prizes will be awarded.
Citizens for Growth, co-sponsored by Peoples Bank, will be selling glow in the dark tattoos, bracelets, necklaces and glow sticks, during the concert with Bella Cain at 9 p.m. in Schmalfeldt Park. Deb Scully of Scully's Silver Lake Grill will be selling roasted corn on the cob, and ice cream in Schmalfeldt Park.
On Saturday, July 7, 7 a.m. to noon Dennis Rodefer will be taking the children shore fishing on Silver Lake.
Noon to 4 p.m. a Street Sale on Lake Street kicks off the Farmer's market. There will be a duck pool for the small children, up to age 2 ½ to draw for prizes, while supplies last. Come to the Citizens for Growth tent and buy your raffle tickets for a handmade afghan, and a $25 gift certificate from Cowmark Café in Trevor. Silver Lake Community Baptist Church will sponsor children's games in Schmalfeldt Park, ages 3 to outgoing 6th graders.
At 1 p.m., Binanti's Taste of Italy will be having a spaghetti eating contest in front of the restaurant . There are 3 age groups, contact Taste of Italy at 889-8387 and let them know you'd like to register for the contest.
At 2 p.m., the band Country Tradition will play.
At 4 p.m., petting zoo from Buggy Whip Farms in Bristol sponsored by Sugar-N-Spice salon and Andy Lorenz of Shirtz Happen both Silver Lake businesses.
At dusk, fireworks will take place over the lake, presented by Silver Lake Citizens for Growth, and the many donations from our citizens and local businesses!!