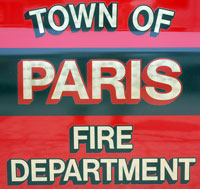 Paris Fire Department units put out a fire in a barn in the 1300 block of 136th Avenue in Paris Monday evening.
Paris Chief Roland Iwen said a person was using a cutting torch on a vehicle in a pole barn when the vehicle caught fire.
The department responded at about 7:40 p.m. When firefighters arrived, the vehicle was fully involved, Iwen said. The fire was put out in about 10 minutes.
Rafters in the barn suffered some minor damage but the barn is still sound, Iwen said.
The department received mutual aid from Bristol, Pleasant Prairie and Somers.