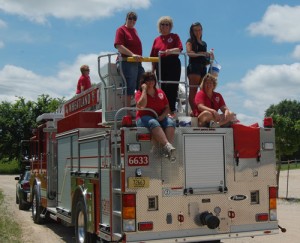 The 43rd annual Wheatland Volunteer Fire Department carnival will be held on June 22, 23 and 24 at New Munster Park.
This year's carnival will once again include a softball tournament, concessions, a baggo tournament, and live music.
Friday night Tristan Grawe will open the festival, performing from 7 to 8 p.m., followed by 4 Lane Highway from 9 p.m. to 1 a.m.
Saturday the annual parade through downtown New Munster takes place at 1 p.m. followed by activities for kids at the pavilion. The businessmen's water fights take place at the firehouse in the afternoon. All businesses are encouraged to compete. Saturday night Bella Cain will be on stage from 9 p.m. to 1 a.m.
Sunday afternoon at the fire house will be the fire department's water fights. Tristan Grawe will be performing again at 6 to 9 p.m. on Sunday night.
There will be activites all day for kids on both Saturday and Sunday.
If any one would like to sign up for the baggo tournament or would like to help out with the carnival feel free to email at wheatlandfire66@gmail.com