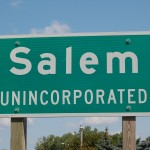 In an effort to fight aquatic invasive species on the Camp Lake shoreline near Sunset Oaks Park, the Town of Salem approved a resolution Monday night, to apply for a grant offered through the Wisconsin Department of Natural Resources.
The grant funding would enable the Town to turn back the tide of zebra mussels, Eurasian water-milfoil and other unwelcome guests.
If grand monies are received, the Town would be responsible for a 25 percent commitment of the total fees for the three-year invasive species control project. Money for the Town's portion would come from the Park Fund.
According to Town Administrator, Patrick Casey, if the grant is approved, the project would be underway in the fall and would include timely publication of the results.
"We would to clear everything up and let the native vegetation come through," he said. "This is not for the whole lake, just the shoreline by the park land."