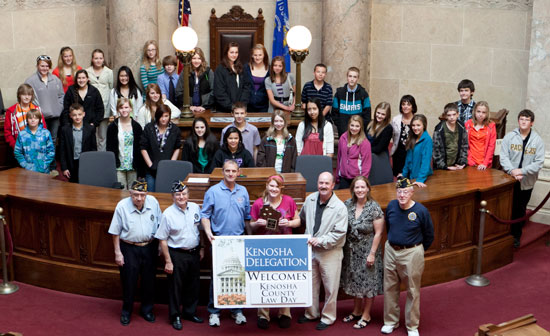 State Rep. Samantha Kerkman (R-Randall), representing the Kenosha County legislative delegation, participated in the annual Kenosha County Law Day at the State Capitol on May 10.
The event is held each year to provide students with the opportunity to learn more about law enforcement, and local and state government. Sponsored by the Kenosha County Council of the American Legion and organized by Deputy Ray Rowe of the Kenosha County Sheriff's Department, Officer Dennis Walsh of the Kenosha Police Department, Commander Dennis Hackeloer of the Kenosha County Council of the American Legion, and local school teachers, the event kicked off at the Kenosha County Administrative building on Tuesday, May 1. During that time, participating students were given the opportunity to witness the proceedings of an actual court case and meet their local government officials. The event also included a canine demonstration and a crime scene investigation demonstration. The American Legion Women's Auxiliary provided a lunch to the students.
Each year, Kenosha County Law Day includes an essay writing competition in which students write about a featured topic. The topic chosen for this year was the National Anthem, and the finalists of the competition were rewarded with a trip to the State Capitol.
The county winner of this year's competition is Julie Katzer of Salem Grade School. Julie was presented with a plaque and a flag that had been flown over the State Capitol.
During their Capitol visit, the students were given a private tour by Rep. Kerkman, who also provided an in-depth discussion about how state government works and posed for pictures with the group. Rep. Kerkman then joined the group for a lunch sponsored by Pete Wasilevich, owner of the Kenosha area Kentucky Fried Chicken restaurants.
Rep. Kerkman thanked Deputy Rowe, Officer Walsh, Pete Wasilevich, and the Kenosha County Council of the American Legion for their efforts in making Kenosha County Law Day 2012 a success.