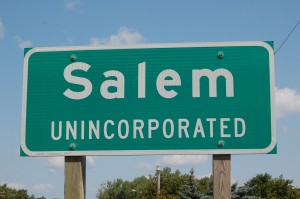 Rock Lake Residents were shocked to see a weed-harvesting machine apparently covered with zebra mussels operating on their quiet waters, Saturday morning.
Some residents encourage weed removal to clear the path for swimmers and boaters. However, others feel it is damaging the water's ecosystem by leaking petroleum in the water and removing too many weeds, leaving minnows and other species with nowhere to hide and nothing to eat.
Anglers don't mind the weeds as the weed beds often provide more fish than they can hook, but others are happy to wave goodbye to the dense green vines that tangle and trap swimmers, and motorboat propellers.
However, both sides agreed that an aquatic weed harvester should be clean and free of the invasive species before entering the water.
Armed with photographs of the aquatic weed harvester laden with zebra mussels, the Rock Lake Preservation Association and the Rock Lake Highlands Association pummeled the Salem Town Board with questions as to why the town was listed on the permit to cut weeds in the area as neither group was aware of this happening.
Eric Backe, President of the Rock Lake Highlands Association requested notification all future mechanical weed removal operations.
"We have been preserving Rock Lake since 1949 and would like a discussion about permit issues on this," he said. "We were not informed about this. Rock Lake is beautiful and we want to keep it that way."
According to Patrick Casey, Town Administrator, the harvester was hired by Rock Lake Restoration Association to harvest weeds on the lake. Learning about this, the town paid the same company to remove weeds near the public access dock and fire lane to make that area more usable by the public. (Note: This paragraph changed from original version — DH)
Numerous varying opinions ensued from residents of both sides of the lake as to the fee paid for the weed removal, future methods of weed removal, and whether removal was necessary at all. Some residents requested hand pulling the weeds, and hiring high school students to remove them in the summer, while others were in favor of a clean weed-harvesting machine.
One Rock Lake resident contacted the DNR and was told that the machine should have been clean and sterilized prior to entering the water. She also contacted the Army Corps of Engineers who were interested in the situation as Rock Lake is one of few lakes in the United States that has no zebra mussels.
At times, tempers flared between the two groups on several issues, so much so, that Town Chairperson Diann Tesar scheduled a special meeting to discuss Rock Lake issues at the Town Hall on Monday, June 18 at 7 p.m.
"I guess I didn't realize that there was a Rock Lake Restoration Association and a Highlands Association," she said. "In my opinion, it should be one group. But if you are willing, we should have everyone together in this hall and hash it all out."