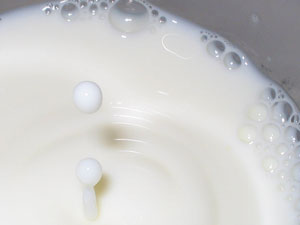 It's dairy breakfast time, a Wisconsin tradition that features generous helpings of things like scrambled eggs, pancakes, and a variety of other dairy products and beverages.
The event gives children a chance to tour a working farm, watch the milking procedure, examine farm machinery and play games. Adults will enjoy visiting the Wisconsin tent to shop and view displays for cranberries and mint, honey, butter, apples and wine, bakery and pork, poultry, eggs and cheese. There will be a DJ playing a variety of  music and of course, great food to eat.
Since 1997, Myron Daniels, Gene Weis and Dave Daniels joined forces to create a larger, more efficient operation. All three men bring several generations of farming expertise behind them.
With 500 active milking dairy cows and 500 young replacements, MGD is the largest operating dairy farm in Kenosha County. According to Dave Daniels, the decision to combine their efforts allowed for more flexibility in their daily lives.
"Cows don't take off for holidays, and because we combined our resources, we were able to hire a few employees so we can get time off now and then," said Dave, adding, "And after 15 years, we haven't gotten too mad at each other."
MGD is affiliated with Foremost Farms, a USA cooperative. On weekdays, the milk travels to Waukesha where it is sold to Golden Guernsey. On weekends, the milk is trucked to Richland Center where it is used to create mozzarella cheese for the pizza industry.
This is the second time MGD has hosted the annual Dairy Breakfast. The first time was ten years ago.
"We knew three years ago that we were going to host it again this year, so we prepared what will be our parking lot with alfalfa hay so if it gets tamped down, we can use the field for corn," said Dave. "But the rest of the planning has been in the works for about six months—we retro-fitted the milking parlor this past winter."
Last year, more than 3200 attended the breakfast and this year crowds are expected to be the same if the weather cooperates. Parking will be on the grounds unless the weather is inclement.
"If it rains there will be parking at Central High School, the Kenosha County Building and Brighton Grade School," said Dave. "A busing company will bus people to the farm and they can stay as long as they want."
Visitors can call 262-206-8149  to verify if parking will be offsite.
There is no admission to the farm but breakfast tickets are $6.00 for adults & children 6 & under eat free. The breakfast runs from 6:30-10:30 a.m.
 Mighty Grand Dairy Farm
22811 18th St
Union Grove (Brighton)

View Larger Map