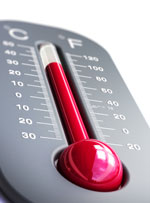 The National Weather Service Forecast for this weekend looks hot for early June.
What's hot? How about 90 degrees?
Temperatures should start to climb Friday with a high of 86 forecast. On Saturday, the forecast calls for a high of 90 degrees with Sunday's high inching up even a little more to 92 degrees.
Not a drop of rain in that forecast either until Monday, when there will be a 50 percent chance of thunderstorms and a high in the mid-80s.