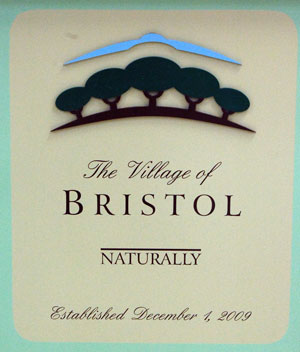 A lawsuit seeking to reverse the mass annexation that united Bristol as a single municipality in 2010 has been dismissed by a Kenosha County Circuit Court judge.
In his written decision, Judge Bruce E. Schroeder said Dr. Michael Ries and Ries Partners, Limited Partnership, which own property that was in the town, failed to prove that the annexation violated the judicial Rule of Reason.
In Dec. 2009, the northwest portion of the former town of Bristol was incorporated as a village.
In 2010, the remaining town was annexed to the village after voters in a referendum voted overwhelmingly in favor of the move.
In his ruling, Schroeder addresses the plaintiffs claim that the referendum result was not valid as a reason to allow the annexation. Schroeder writes:
Bristol today is a blended community of the future, with both suburban, commuter, and agricultural interests cohering in a single municipality. It is in this respect that the election results, viewed so disdainfully by Mr. Stockham (an expert witness for the plaintiffs)  are of importance. While I am inclined to agree with the plaintiffs that do not prove a "need" for the annexation, they do emphatically prove a desire by the people of the Bristol remnant to join with the Bristol Village, just as the leaders of the incorporation drive sensed. Not only is the 93% favorable vote for annexation remarkable; the fact that the vote in the original village area for incorporation was only 52% favorable leaves one wondering to what extent the "No" votes in the incorporation referendum were cast because the success of the referendum would split the township. It is clear that there was a palpable sentiment for unification of the former township, and courts ought to be cautious in setting aside what people clearly want in favor of what the judge thinks that they "need." It seems to me that the plaintiffs' position in this case is that it is the role of the court to overturn the overwhelming vote of the electors because what they have perceived to be a benefit to them isn't really what Wisconsin's appellate courts consider to be a "need." The voters had the opportunity to educate themselves, to consider these very issues, and to make their choice; and it ill-becomes the judiciary to overturn their decision because what they wanted; what they thought to be of benefit to them; they really don't "need." I understand that there are rare instances when the judiciary must interfere with the electors' choice for constitutional reasons; even sometimes for statutory ones; but the plaintiffs have not persuaded me, to the burden imposed by law, that this is such a case.