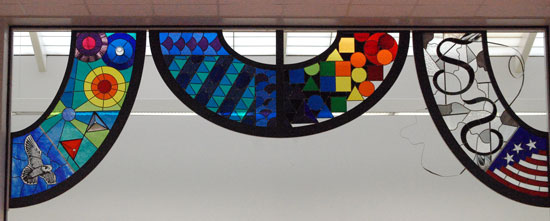 A student designed and made stained glass art project installed at Salem School was officially displayed to the public at large Friday night.
Students in seventh and eighth grade elective art, under the guidance of teacher Christina Schatmeyer and guest artist Dale Mellor, created the panels, which each represented different elements of art.
The students started on the project in January and it was installed late this week in its place over looking the cafetorium. (Here's a list of all the students and which panel they worked on.)
Because the glass panels were designed to illustrate elements of art, the project will be an ongoing learning device for future art students at Salem who can see examples of the elements in this work, Schatmeyer explained.
The elements of art represented are: line, texture, value, color, shape, pattern, rhythm, hue and form.
At the program, representatives of each class that created a panel explained the elements in their work and a little about their process.
Here's a video of the students talking about their work:

Mellor donated all of her time in working with the students.
"Working with the students was awesome," Mellor said. "Their designs were really in line with the elements … this was the students' project .. it was their work."
The cost for the project was covered completely by donations from the community and area businesses. Two Salem businesses, American Family Insurance Dennis Meek Agency and Salem Mini Mart made $250 donations each. (A list of all $250 and $100 donors is here.)
Meek was present at the ceremony and said he was gald to have the opportunity to donate to a fine arts project at the school.
"It's nice to give back to the community and be a part of it," Meek said.