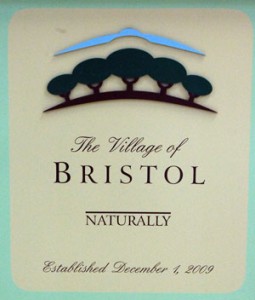 A village adopting a new zoning ordinance. Sounds like pretty dull stuff right?
But in the case of the fairly new village of  Bristol that action taken this week had more significance than just a routine updating of a law full of arcane details. It allowed the village of Bristol to deliver on some changes sought by constituents that the former town of Bristol — which was ultimately answerable to the county zoning ordinance — couldn't, said village administrator Randy Kerkman.
As a village, "we can change our zoning ordinance if we want," Kerkman said.
And some changes they have made. Nothing too radical, but some of the new elements are considerations that some residents have long sought, Kerkman said.
Here's a rundown of some of the more significant changes as highlighted by Kerkman in an interview with westofthei.com today.
Larger accessory buildings — Bristol now will allow significantly larger accessory buildings even in residential zoning districts. An example: Under county zoning, in R-1 residential zoning the maximum outbuilding size was 1,950 square feet. Under Bristol's new village zoning, an outbuilding in R-1 zoning could be as large as 6,000 square feet — with a  conditional use permit. "That was probably the biggest thing we had comment on," Kerkman said.
Greenhouses — County zoning had no provision for allowing a greenhouse on residential properties. Bristol zoning will allow for a 12 feet by 12 feet greenhouse on any residential parcel.
Height for commercial buildings — County zoning had a maximum roof height of 35 feet. Bristol's new ordinance allows 60 feet. Residential roof heights are higher too. This will allow for more flexibility in design, Kerkman said.
Buffer restrictions — Bristol's ordinance provides for buffers between types of differently zoned properties that county zoning lacks.
Non-conforming properties  in lake district areas — New flexibility will allow non-conforming properties in lake areas to make changes as long as they are not more nonconforming than the original situation.
Green roofs — The new ordinance will allow the use of green roof technology in business districts.
Lower sign heights — County zoning allows for a 35-foot high sign in a commercial district. The Bristol ordinance will allow for 15-foot signs in most business areas. 35-foot signs will still be allowed along I-94.
Bed and Breakfast food — The new ordinance allows bed and breakfast lodging businesses to serve other meals too.
Split property zoning — Under the new ordinance if a property is split by the building of a road, the two resulting parcels can retain the zoning of the old single parcel.
Flood maps — The action taken by the Village Board Tuesday also included adoption of a updated flood plain map and an emergency flood plain map that would be used in the case of a rupture of the Lake Shangri-la Dam.
The village has a hard copy of the entire ordinance at Village Hall. Eventually, the plan is to put a PDF version on the village website, Kerkman said.