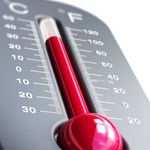 Ready for mid-summer like heat? Ready or not that's what the National Weather Service says we're in for Sunday.
The high temperature for Sunday hereabouts is forecast for 95. How's that for Memorial Day weekend weather? I'd say it's more like Fourth of July.
The high should be almost as high Monday at 93 (prepare parade participants and spectators). After that, temps are expected to moderate with a high about 20 degrees cooler Tuesday and 30 degrees cooler than Monday on Wednesday.
UPDATE 2:52 p.m. — 91 degrees at Kenosha Regional Airport.